Discover more from World of Apple - Delivered
A glimpse into the World of Apple - delivered to your inbox
Apple marches confidently into original content
Apple's newest limb of the business / AirPods Pro launch
"We concluded a groundbreaking fiscal 2019 with our highest Q4 revenue ever, fueled by accelerating growth from Services, Wearables and iPad," - Tim Cook during Apple's Q4 fiscal results call with investors
Apple TV+ goes live worldwide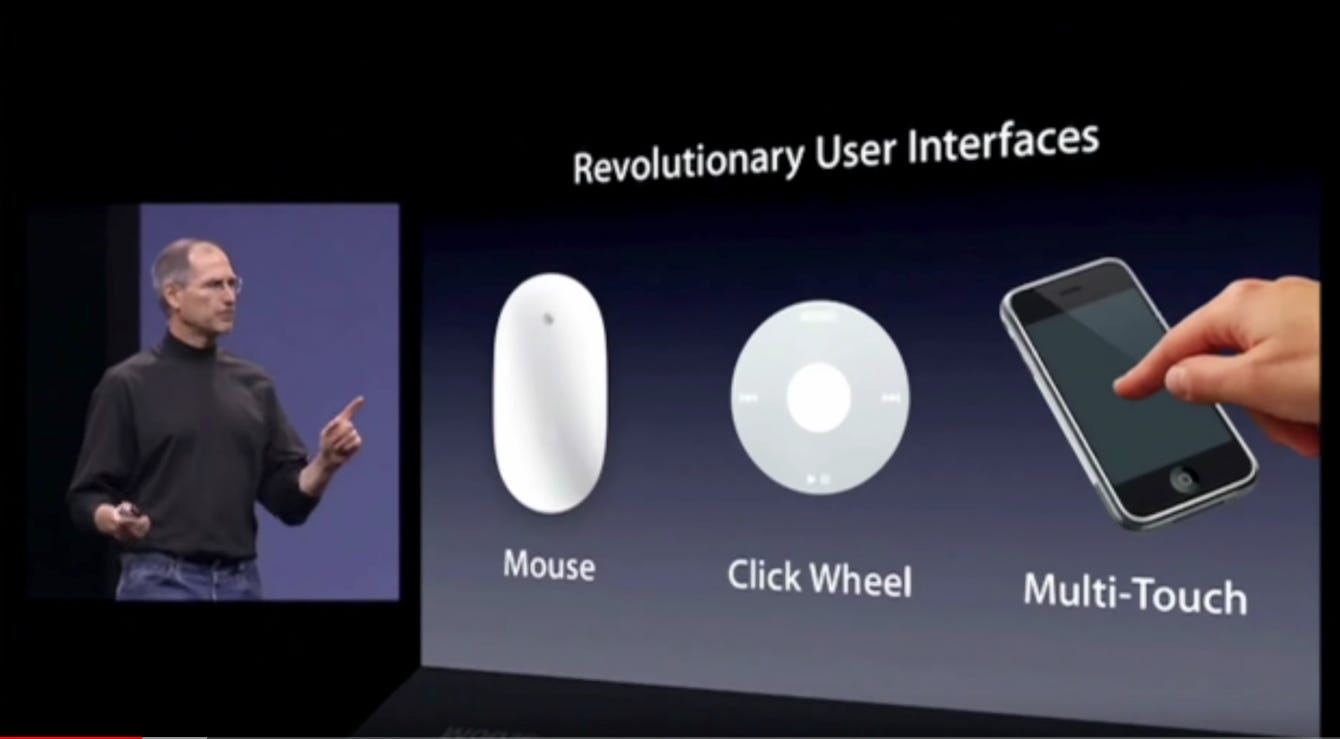 On November 1st Apple began a new chapter, arguably new book, in its more than 40 year history. It begins with the words "An Apple Original", they are the words that will be analogous with this era as the mouse is to the first two decades of Apple Computer, the click-wheel is to the mid-2000s, and the multi-touch display has been since 2007.
But this presents issues for the traditional tech media and Apple watchers, and maybe it creates an issue for Apple too. You see, Apple is an embodiment of a culture and at the heart of that culture is creating incredible customer experiences. Think about it this way, Apple was not the first company in the world to release an MP3 player, but it invented the click-wheel and commandeered tiny 1.8-inch hard drives to build a better MP3 player. Apple was not the first company to release a smartphone, but with the multi-touch display and slick interface Apple was able to step into and upend another industry—whilst delighting its customers.
The thread that ties all of Apple's successes together through its history is this consideration of incredible customer experiences, we see it through the lens of great industrial design, we interact with beautiful and thoughtful interfaces, and we make use of services that just work. With Apple's latest move, creating and pumping original content into our TVs and cinema screens it's hard to connect the dots. That's why I am thinking of this latest move, more than any other, as a new limb rather than a simple extension or layer of the existing business.
With that premise in mind, there are two questions to ask ourselves. First, can Apple bring its signature touch to this new world it is in? And second, why has Apple chosen to take this route?
Many people, myself included, have an unconscious (or not so unconscious in some cases) bias when it comes to judging Apple products. We hold them to a higher standard, we expect their software and hardware and cloud services to interact with ease. Steve Jobs himself coined the phrase "it just works". Now, no company is perfect because perfect does not exist, and when a company is more than 100 thousand employees, producing more than 100 million hardware devices every three months, operating in every country in the world, and serving more than 1 billion customers, it is not at all even remotely possible to get close to perfect. Yet, here we are, expecting Apple to outperform the pack.
The same might be true for Apple's original content, when the Rotten Tomatoes scores flowed in for the Apple TV+ hero shows, they did not meet that outperform mentality. Were those reviewers holding Apple to some unknown higher standard? In reality, despite some initial reports that executives were dictating what content could and couldn't be included in TV shows, Apple is giving its producers creative license and that is the right thing to do. These shows are no different in quality or output than the shows being produced by other studios. The Apple twist on all of this, is its ability to bring in top-end talent on day 1, and put brand, platform, and marketing clout behind acquiring an audience.
So yes, Apple is bringing its signature touch to the world of original TV and movie content in the same way it has to many other industries. But not by issuing dictats to those producing the shows, but instead enabling their talent, securing the stars, and putting their work on the best platform with the biggest audience it can generate.
The next question, in the spirit of any human under the age of four: why? If we go back to my preamble and consider Apple's epochs, we see that beyond a primitive desire to create products that customers will enjoy and thereby disrupt industries, Apple also builds layers on top of its key products. The iPod kicked off a generation of digital music, and the iTunes Music Store was born in 2003. The iPhone, whilst not originally launching with an App Store, started a revolution—notably beginning during the Apple marketing campaign "There's an app for that". The App Store is no longer just a store, but an economy, supported by newcomers like Apple Arcade, as consumers get pushed towards subscription models.
Both the above examples serve similar purposes. A music store that makes it easy to purchase music and get it onto the iPod serves to make using the product easier, as well as simultaneously locking the consumer into using devices that work with iTunes in the future. The App Store also locked people into the iOS platform, but having quality apps that can be downloaded in a safe environment serves to reassure customers who are afraid of their devices being infected with viruses and malware.
Using this equation of added value, customer lock-in, and enhanced experience as a basis for why Apple expands beyond the core products, can we fit Apple TV+ into this? In short, not really. In fact, Apple's behaviour suggests that TV+ is the product and has done lots of work to build around that as the core—great examples of this include creating apps for third party devices like Samsung TVs and the Amazon Fire stick so as many people as possible can access the content.
This is not a play from Apple to sell more Apple TV boxes, more iPhones, or to furnish its brand. The cynics amongst you are proverbially screaming at the author right now asking why I'm missing the most obvious play of all… Money. Well yes, can a company that is mostly beholden to paying its employees and keeping its shareholders happy not make moves that have the end goal of adding to the bottom line?
The revenue angle has two aspects to consider. The first is that if Apple wanted to fill the revenue gap being created by slowing growth in iPhone sales then it would have built a streaming service that competed head-to-head with Netflix, Amazon Prime, Hotstar, Jio, and all the others. But TV+ only has original content, and does not have the draw of every episode of Friends, South Park, or an entire back catalog of Disney movies to bring a constant stream of people to its platform. Apple has relationships with movie and TV studios as one of the largest distributers of rent-to-view movies and digital download TV, it did not use these relationships to fill TV+ to the brim, instead it is embarking on a very long journey to score customers and keep them through original content—not an inexpensive process in itself.
Another aspect of thinking about revenue is the long term angle. Apple is presumably betting that peak iPhone is mostly behind us, the upgrade cycles are lengthening and the market crowding. There will likely be record revenue quarters in Apple's future, driven by the iPhone. But in five years time this is unlikely to be the case so thinking long-term about revenue growth is the sensible play. Nobody thinks that Apple is not constantly strategising 5-10 years in advance, it's just sensible business. But the difference between designing and building hardware and software to release in the future, is that you can mostly do it in secret—and when it arrives, you can sell it for hundreds if not thousands of dollars per item. Consumable services offer a different take on revenue, they allow for long-term prediction of trends. But you cannot keep them secret. Apple had to get TV+ into our hands as soon as possible to begin building a customer base, to begin building a reputation so that in five years time it has a stable, predictable, and resilient revenue stream; as it does from Apple Music and iCloud now and Apple News+, Arcade, and TV+ in the future.
The two questions we started with originally don't have simple answers but they can be answered with succinct arguments. Apple is bringing its famous touch to the world of original content and streaming through talent acquisition, curation of content, and a base of platforms to allow the artists to have their work seen by the widest audience possible. And it is doing it to future proof one of many revenue streams that it requires in the next decade, and the best kind of revenue stream is one that is reliable, predictable, and resilient.
AirPods Pro reviews
Apple's latest addition to the AirPods lineup came right at the tail end of the company's normal release window for new products, landing just in time for the black Friday sales build up and ahead of the prized Christmas shopping period. And judging by shipping times, store stock, and the number of AirPods Pro popping up in London already; these are going to be a popular stocking filler.
Apple's original AirPods got showtime at the September event in 2016 alongside the iPhone 7 and the Apple Watch Series 2, although they did not hit the shop shelves until December and were extremely stock constrained through to summer 2017. This year Apple clearly decided, for whatever reason not to show the AirPods Pro at their September event, and instead went the route of a press release and a fairly extensive marketing and public relations push. My favourite part of the launch was the huge decals of dancing people (reminiscent of those iPod adverts) that Apple put on the outside of its flagship retail stores, only to update them after the product launch with AirPods in their ears (see below).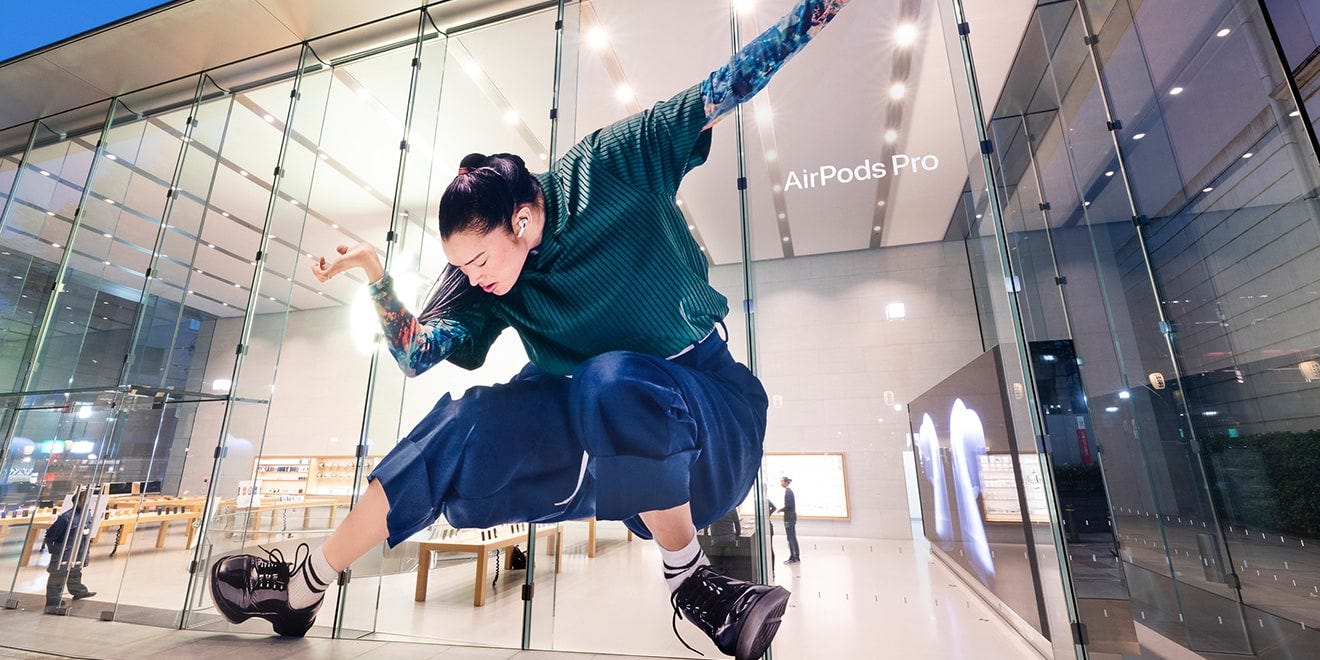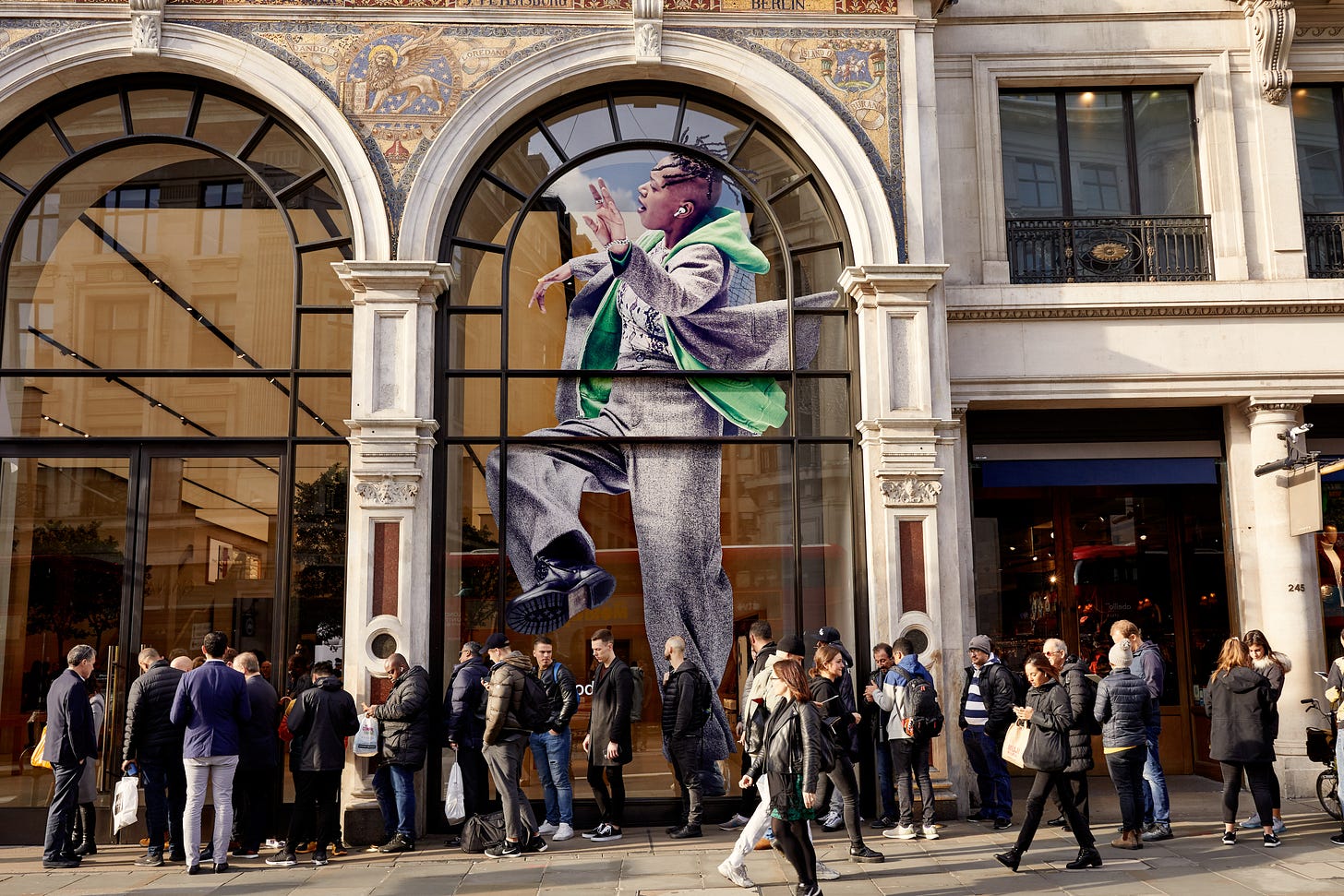 Apple also followed a well beaten path and had YouTubers, bloggers, and the major tech sites release unboxings and reviews. Here are some highlights, in case you missed it at the time.
MKBHD on Youtube - Imperfectly perfect
RTINGS.com gave the AirPods Pro a proper workout, they particularly liked the active noise cancellation:
Their active noise cancelling works very well, and is among the best that we've tested on in-ear headphones, making them a good option to use while commuting or at work. While they're smaller than the previous models thanks to their shorter stems, they offer longer battery life and have an easier-to-use touch control scheme. 
The AirPods Pro do come close to perfecting the original AirPods concept, though: the in-ear design will fit more ears, the noise cancellation outperforms what you'd expect from tiny earbuds, and they sound better than ever
SoundGuys:
Not only will they sound significantly better than the original ones, but they offer more in the way of features too. Sure, they're $50 more than the latest AirPods with wireless charging, but you get a lot for that extra cash.
SnazzyLabs on YouTube - Do AirPods Pro Suck? An audiophiles perspective
What to catch up on...