Discover more from World of Apple - Delivered
A glimpse into the World of Apple - delivered to your inbox
Apple's September Spectacular
Just four days to go... Here's the rumour lineup
"Marunouchi has amazing energy and our teams can't wait to welcome customers to our largest store in Japan for the first time on Saturday." Deirdre O'Brien, Apple's senior vice president of Retail + People on Apple's new store in Japan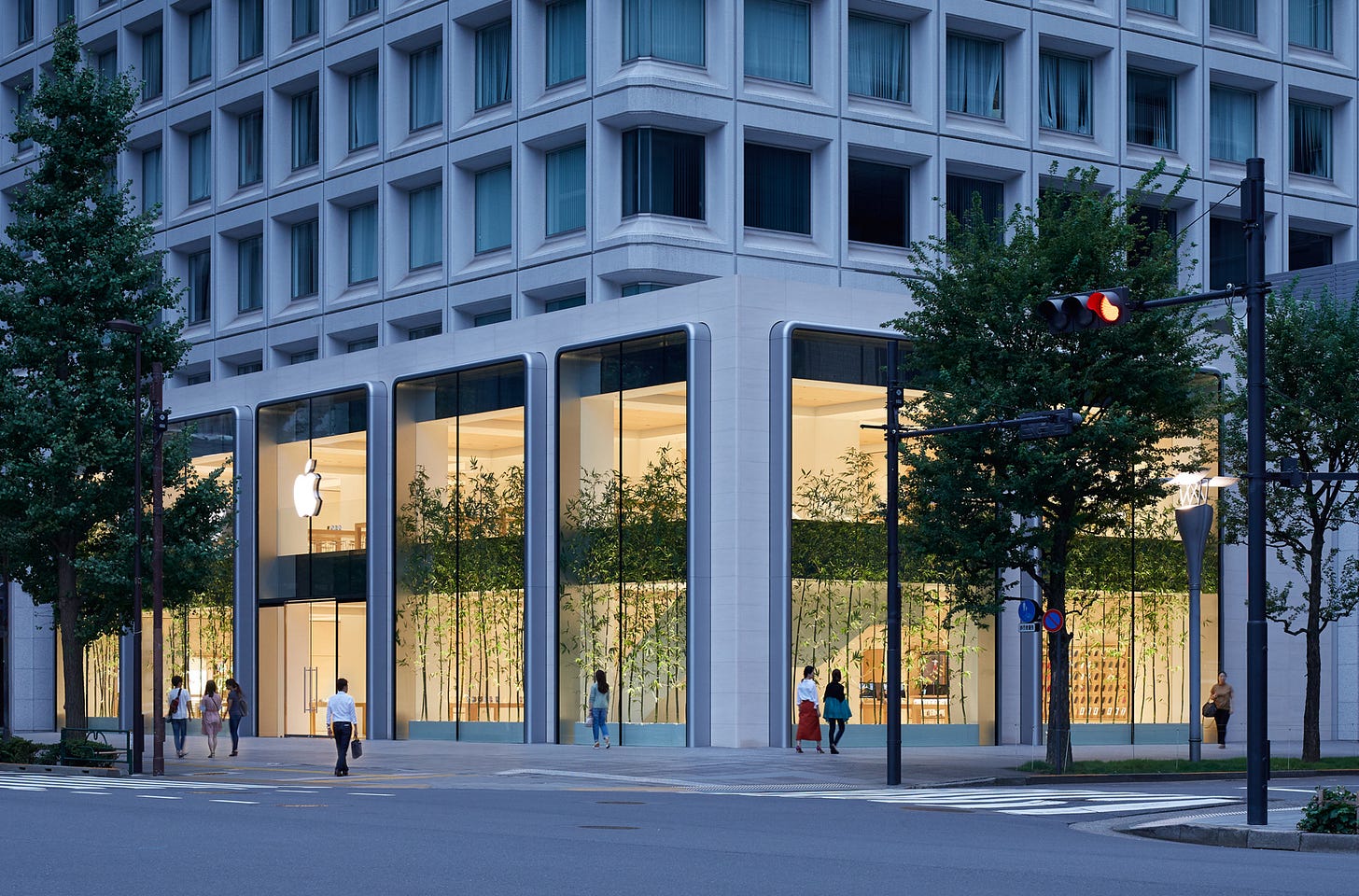 Apple gears up for its annual iPhone event - here's what to expect:
Like clockwork Apple is hosting its September event next week, where we will undoubtedly see some new iPhones, of which we know a fair bit, but not everything. It's fair to ask that in an era where Apple's iPhone business is fighting tougher battles than ever before, can a slower cycle of innovation keep Apple relevant in the space?
Will we also hear more about Apple's push into entertainment? How will Apple solidify its move into AR ahead of the long-rumoured "Apple Glasses"?
With those questions in mind and without further ado, here's a rundown of what to expect on stage Tuesday:
iPhone
Three new iPhone models to replace the iPhone XS, iPhone XS Max, and iPhone XR. Strongly rumoured to be named iPhone 11 Pro, the iPhone 11 Pro Max, and the iPhone 11 (top marks to Apple for its continued streak of terrible naming).
We're expecting similar designs as previous generations, with the Pro models gaining a third camera that takes wide angle shots and the lower-end model gaining a second camera for that 2x zoom.
In addition, on the hardware side it's rumoured that FaceID will get better at picking up faces when laying flat on a surface, better waterproofing, and upgrades to the glass for more shatter resistance, and a reverse wireless charging feature for charging AirPods on the go.
The iPhone 11 (or maybe 11R?) will also pick up some new colours, green and orange are good bets, as well as continuing to pack Apple next system-on-a-chip (SoC)—the A13.
Watch
Apple's wearable's category, led by the watch and AirPods, continues to make big strides year-over-year. The Apple Watch, with no competition in sight, is having its emancipation moment. Last year it was unshackled from the iPhone with the addition of cellular, this year we know that goes further with watchOS 6 and over-the-air updates and downloads. But what will the hardware deliver?
Amongst rumours that the innards will not change at all, in other words remaining the Series 4, we see some hints of external tweaks. This is afterall a fashion device as well as a computer. There was a leak about titanium and the return of ceramic to the casings and some new straps.
Software wise, there are suggestions that Apple will continue to bolster the strength of its health offering with sleep tracking coming to the watch. Maybe a development of its acquisition of Beddit.
Apple TV
Now we're straying into full on 'maybe' rumours. Many are arguing that Apple's tiny TV box is overdue an update (last done 24 months ago), with an anonymous rumour pointing towards a modest update to the A12 SoC to help push graphics for Apple Arcade games. The current Apple TV features an A10X—the X indicating more graphics oomph—so the suggested move to the A12 will unlikely bolster the graphics performance much further than the current A10X.
Either way, the Apple TV will get stage time as an Apple Arcade platform.
Apple Tag
Another long-term swirling rumour, but signs are now pointing towards this one becoming a reality. The Tile-esque Bluetooth tracking devices are strongly alluded to in iOS 13 code, and the name change of Find my iPhone to simply 'Find My' suggests we'll see this new hardware on Tuesday.
Apple's revision of the item tracking tool will apparently use AR to help track items visually in the real world. It's yet to be seen how this fits in Apple's overall strategy, with many of their own devices already taking advantage of technologies to allow them to be tracked—especiallyMacBook Pros that can be tracked via Bluetooth by other nearby Macs. Will this really be designed for lost car keys, or something bigger?
Wildcard: Will AR glasses also debut?
Code digger extraordinaire Troughton-Smith isn't betting his house on it, but has indicated that Apple's AR glasses (goggles?) could be closer than we think. But, Tuesday close?
Tune in next week for my full analysis of the event.
Apple Music web interface
Earlier this week Apple revealed its card by unveiling a beta web interface for Apple Music—almost certainly the death knell for iTunes' demise but also an important step in competing with Spotify.
Twitter immediately kicked into action showing off the slick interface, with many commenting on how this iTunes-esque style rivaled Apple Music on the iPad for ease of use.
So far a few features are missing compared to the Mac and iOS, notably 'friends are listening to', but with the inevitable culling of iTunes in our futures this is a solid step in the right direction.
China used iPhone vulnerabilities to target Uyghur Muslims
In last week's issue we reported on the breaking news that Google researchers had discovered a series of vulnerabilities within iOS that exposed users by simply visiting a malicious website. TechCrunch has this week reported that the original attack was launched by a state, "likely China", designed to target the Uyghur community in the country's Xinjiang state.
It is suggested that the attacked formed part of an effort by the Chinese government to crack down on the minority Muslim community in recent history.
Forbes has followed up on the report to corroborate that the websites were indiscriminate in who they attacked, and the attacks also targeted Windows and Android platforms.
Apple is yet to comment on the vulnerability or its impact.
Wait, there's more...