Discover more from World of Apple - Delivered
A glimpse into the World of Apple - delivered to your inbox
By Innovation Only?
Innovation and pricing: a look at what Apple told us—and didn't tell us—this week
"We've always believed that by giving people wonderful tools, you enable them to do wonderful things." - Tim Cook at Tuesday's media event, following the opening video from the keynote
---
Innovation.
The outrage across the internet came swiftly following Apple's keynote presentation on Tuesday. Apple's invites to the media titled the event with the clever wordplay: 'By Innovation Only'. But according to the sea of hot takes it was not innovative enough.
So what is innovation, what does it look like, can a company like Apple innovate on an annual cycle, and maybe most importantly, does it matter? Let's explore.
If you look back over Apple's 40 year history there is innovation woven amongst the successes, and non-successes. The innovations often come on the cusp of a sea change, where Apple may not be leading the pack (yet), but suitably kick starts a revolution of technological change. Of course, one of the firm's most famous home runs is the original iPhone. No, it was not the first smartphone on the market. It was not even close to being the first touchscreen smartphone on the market—but boy did they innovate.
That innovation could be seen in primarily the multi-touch technology, something that has become a standard across all devices. And if you're familiar with the history of the iPhone, you'll know that in reality the iPad came first with prototypes at Apple being large multi-touch screens with the plan to release a tablet product. But upon realisation that the tech could be shrunk to a handheld device it was all hands on deck to bring the iPhone to the market. Since then Apple has blazed a trail of innovation in the iPhone, with cameras, silicon, and screen technology to name a few.
To illustrate a point, I was struck in the week by this chart (pictured above) produced by Daniel Tello using Mixpanel data, an analytics service for web and mobile, showing the active iPhones across their network of sites. I'm sorry, but what you're about to read will break you out of your bubble and into reality. Older iPhones, namely the 2014 iPhone 6 and 2015 iPhone 6S remain popular and in use by many, and in fact this data shows strong adoption of the 2017 iPhone 8 and iPhone X cohort of phones (as noted, they were largely seen as a flop at the time). Of this cohort of popular devices the iPhone 6 is about to be dropped from iOS upgrades—that alone won't push people to upgrade but when their apps stop working it will be a factor.
There is a bucketload of innovation to be had by someone who is upgrading from an iPhone made in 2016 to an iPhone 11 or 11 Pro.
Apple's event on Tuesday showed other areas of innovation. Namely, a smartwatch with an always-on display but still retaining 18 hours of battery life. Sure, these kind of smart watches existed on the market and in my research fall into two categories. They are either watches that have a smart element and are therefore always-on, or they are smartwatches with always-on displays and half a days battery life.
A final word from me on this, many pundits have argued that the end of Apple's event was odd. For those that didn't watch, or are not regular watchers, there is a normal cadence to an Apple event. They'll kick off with some numbers related to sales and performance, maybe throw in a retail store update, and use this to set the scene for the product updates ahead. Using this standard format, it was previously possible to predict how much to expect from a keynote. If Apple kicked off the show and went straight into a product—as it did on Tuesday—you know we're in for a packed schedule, sometimes the presenters would jog on and off stage to try and speed things up.
On Tuesday, Apple wrapped up a relatively light schedule with a retail update. Not entirely oddly placed in the narrative but totally backwards and out of character—a bit like ending a movie with the beginning.
So what was missing? On the run up to Tuesday's event, the rumour-mill was in overdrive about these so called Apple Tags. A device, to compete with Tile, to help find lost things. Stick them on your keys, wallet, pets, etc, and be able to find them using a low-energy Bluetooth connection and some proximity guessing.
There was no sign of these so-called 'tags' on Tuesday; but Apple has actually given us an insight into what it has planned, scroll down the iPhone 11 Pro product page and you'll see a header "Can you be more precise? Yes." Reading the description, Apple details a new technology invented—should I say innovated—in-house, which makes use of a custom piece of silicon called the U1 that "uses Ultra Wideband technology for spatial awareness" to help your iPhone "to understand its precise location relative to other nearby U1‑equipped Apple devices". Apple finishes by saying: "and it's going to lead to amazing new capabilities." So far, the only benefit is that an iPhone 11 can point at another iPhone 11 and experience faster file sharing with AirDrop…
But connect this detail with the rumours before the event and suddenly you have a set of technologies that allow iPhones to talk to iPhones and give them spatial awareness, and indeed "tags" to talk to iPhones (and other tags?) and allow items to be found in "space". I suspect that when this all comes together it'll mean that a 'tag' attached to your keys that have dropped down the back of the sofa will be able to be physically located by holding up your iPhone and scanning the room. Innovative.
This leaves the question, was this product cut from Tuesday's presentation at the last minute and replaced with a short retail update? And thus, was the overall conclusion less innovative than intended. I suspect we'll know more in October.
Pricing.
Have a conversation with anyone outside of the Apple ecosystem and you'll pretty quickly stumble onto the subject of price. As someone said to me on Twitter yesterday "What really grinds my gears is the price tag they put on their stuff". Since the release of the $1,000 iPhone (an innovation in pricing?), Apple has been on a price related journey and it is evident in three areas: price perception, competitive pricing in key markets, and value.
First, price perception. From both Tuesday's event and the presentation on Apple's website, it is clear that they are attempting to display the cost of expensive hardware like the iPhone in different ways. Visit the website and follow the customer journey to buy an iPhone and two things will strike home quickly. Apple will present a price option if you have an old device to trade in (a $400 discount at face value) and secondly present a finance option as a primary method of payment (pictured). You have to do a bit of clicking to finally be presented with the $1000 price tag. This was also true of how Apple presented the price during the keynote on Tuesday.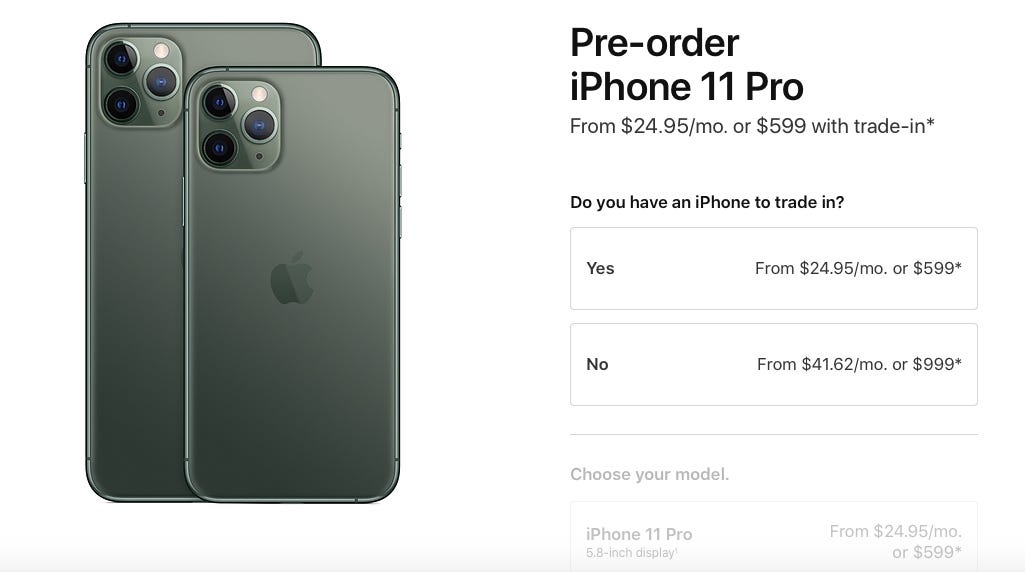 With this Apple ticks two perception boxes: Apple cares about recycling and the environment, and the $1000 iPhone no longer exists.
Second, competitive pricing in key markets. I was first alerted to this when reading about Apple TV+, Apple's upcoming video streaming service, in the Indian publication Business Standard. Apple has done what it should do, and go price aggressive in important markets. India is exceptionally price sensitive, and not really into recurring subscriptions, and also dominated by big Asian brands like Jio and Hotstar. Apple is pricing Apple TV+ in India at 99Rs (equivalent to $1.50 per month). I was later made aware of Apple's overall change in pricing strategy in key markets by this tweet, those prices may seem expensive ($1400USD starting for an iPhone 11 Pro) but they are compared to previous years very competitive and compared to the competition very competitive. As Prabhu Ram, head of intelligence group at Cybermedia Research said in The Economic Times: "It will push other players to take note, and cut rates as well".

This competitive streak does not only apply to India, but also Apple's home market. Scan across the list of leading smartphones and the iPhone 11 at $699 is exceptionally competitive (only the OnePlus 7 Pro at $669 beats it).
Additionally, Apple has begun to show some flexibility. For example, it is now possible to purchase an Apple Watch with a watch band of choice, rather than a default paring. The savings could be modest, but it's a notable step. Not to mention, a continuation of Apple's tactic of moving hardware down the line, this year we see the return of the 2017 Series 3 Watch and the iPhone 8 to fill a low-end price gap for the iPhones.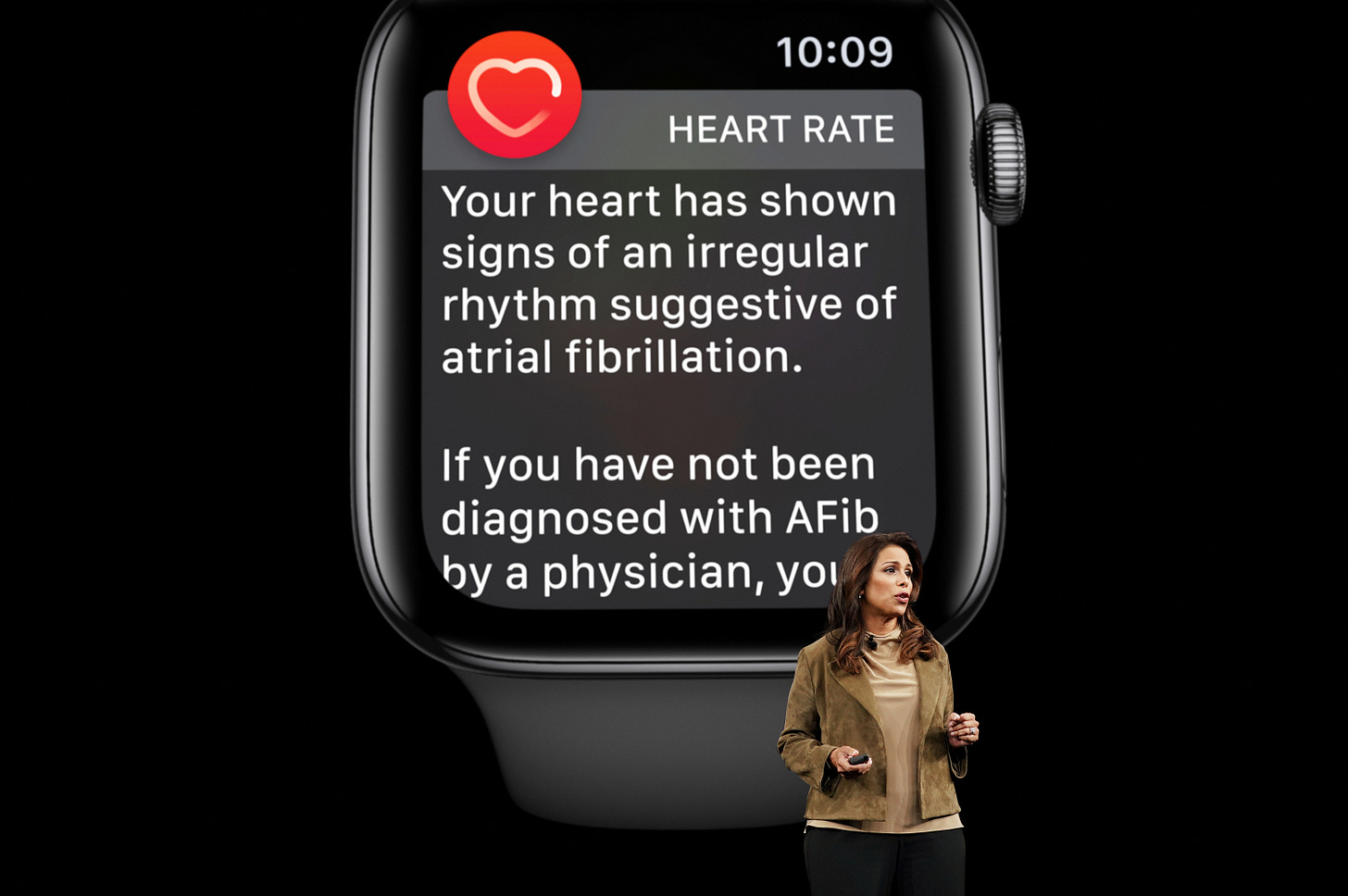 Third, value proposition. There's a lot to say about Apple's ongoing shifting value prop, including whether Apple is beginning to lean too heavily on the privacy element of that proposition. On Tuesday that privacy focus was less evident, and health and the human-factor came back into focus. Apple hit us all right in the feels with their video about the Apple Watch titled 'Face to Face' in which customers spoke of how the Watch helped them diagnose medical issues ahead of them becoming serious, or saved them from life-threatening situations.
Additionally, Apple announced a series of health research initiatives, including three research studies on hearing, women's, heart health and movement.
Over the last few years Apple has begun to calcify a value proposition of health and wellbeing, privacy and security, and technology that works for all and enhances lives and the planet.
From Apple's boilerplate:
Apple's more than 100,000 employees are dedicated to making the best products on earth, and to leaving the world better than we found it.
The jury is out on whether Apple's approach to these three elements of their pricing strategy will convince many that Apple's pricing is fair and reasonable, but in the last 12 months it is clear that Apple has brought price and value into sharp focus.
Some further reading from this week…
Next week
The September event is behind us, and now come the products. MacStories have very helpfully broken down Apple's software and hardware release schedules, which are bizarrely chaotic compared to previous years. The key software dates being:
iOS 13.0 on September 19th

iOS 13.1 on September 30th

iPadOS also on 30th (presumably it is 13.1 not 13.0)

watchOS 6 on September 19th

HomePod update also 30th but with a follow up later in the fall

iPadOS and iOS updates with many missing features from iOS 13 also later in fall
Next week I'll look at Apple's services strategy as we see it today and let's look at some of those hardware reviews as they come in.