Discover more from World of Apple - Delivered
A glimpse into the World of Apple - delivered to your inbox
New hardware and software - what's the verdict?
Your reading and watching list for the weekend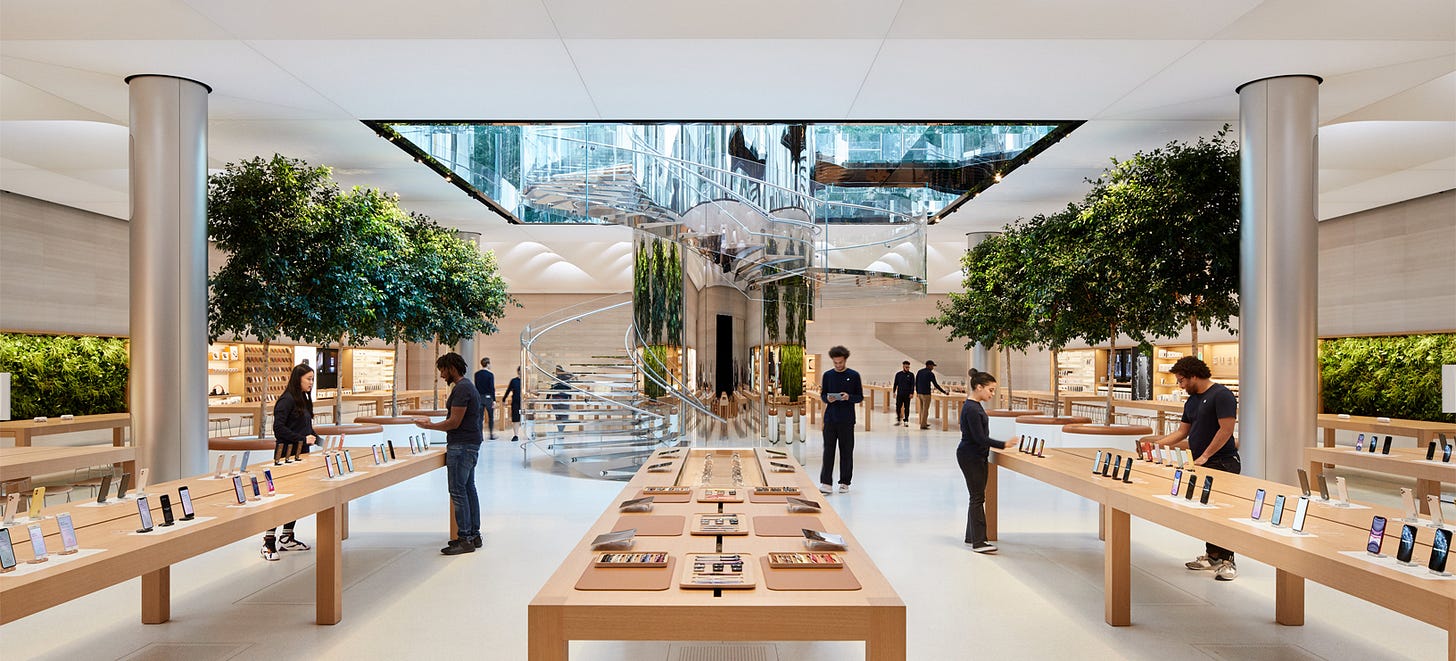 (Above: Fifth Avenue Apple Store in New York City, re-opened today after almost three years of renovation)
---
"I believe that if Steve were still alive, we would have combined our companies, or at least discussed the possibility very seriously," - An excerpt from Disney CEO Bob Iger's forthcoming memoir
---
iPhone 11
iPhone release week is always a whirlwind of dense word reviews, hot takes, unboxings, and video reviews; so this week I'll hand pick some of my favourites from the week about the iPhone 11, Apple Watch Series 5, and iOS 13.
MKBHD on YouTube - For the love of cameras
Halide app (a camera app for pros) gave a detailed run down of the output of the triple-camera system of the Pro, including the technical readouts:
It's 2019, and your camera isn't just a module that takes a photo anymore. Cameras compose images from dozens of exposures, mixing and matching pixels from various frames, changing the output creatively and intelligently to ensure you get an image that looks, ironically, more faithful to what we see. All of this means that with fairly modest changes in hardware (except for the new ISO ranges), the iPhone 11 and 11 Pro appear to deliver one of the biggest leaps in camera quality in iPhones yet.
John Gruber at Daring Fireball:
Several times over the past few years, I've had conversations along the lines of, "I know they're never going to do this, but wouldn't it be cool if Apple made a real camera?" As the iPhone camera system evolves, I'm starting to think Apple is making a real camera, right under our noses — or perhaps better said, right in our pockets.
Joanna Stern of The Wall Street Journal takes an opposing view to Gruber:
After a week of testing, I can tell you that's mostly just smoke-and-mirrors marketing, except for one thing many of us have wanted all along: phones that are a bit heavier and thicker — but work when we damn well need them to. Yes, longer battery life.
Panzarino's review over at TechCrunch is mostly a visual affair (go check it out), but here's a notable takeaway from an excellent photographer:
the iPhone 11 is going to sell really well. And it should, because it's great. It has the best new lens, an ultra-wide that takes great family photos and landscape shots. It has nearly every software feature of iPhone 11 Pro. But it doesn't have the best screen and it doesn't have telephoto.
Photographer Austin Mann gives a stunning visual review of the iPhone 11 Pro:
One thing I love about Apple's approach to Night mode is the strategic balance of solving a technical problem while also caring deeply about artistic expression.
The Verge, has an excellent video review too:
"[iPhone 11 Pro and iPhone 11 Pro Max] are some of the most well-balanced, most capable phones Apple -- or anyone -- has ever made.
Jonathan Morrison - Almost Pro!
And iJustine compares the iPhone 11 Pro to the original iPhone in a dose of lovely nostalgia.
Apple Watch Series 5
Hodinkee - A week on the wrist:
"A new metal and a new display make for a surprisingly revolutionary Apple Watch."
The Apple Watch Series 5 is an excellent smartwatch. You shouldn't upgrade just for the always-on display, but if you do, you'll be happy to have it.
Like a baby learning how to walk and talk, the Apple Watch can finally stand on its own two feet and proudly say "Look world, I've arrived!"
And watch SuperSaf unbox the new titanium watch
iOS and iPadOS 13
As is tradition, Federico Viticci of MacStories has worked the Italian summer and produced another iOS review, this time clocking in at 76,000 words. That's not easy to summarise into a paragraph, but if you can spare the time this review covers in detail the fresh changes in iOS 13 and details the forking of the operating system to serve the iPad, on that Viticci says: 
Here lies the core of Apple's proposition with iOS and iPadOS though: semantics matter. Even if iPadOS is "just a name", it means something. And taken at face value, iPadOS is exactly what its name implies: a literal expression of the fact that the iPad experience has become sufficiently distinct from the iPhone to justify having its own brand.
The former king of OS reviews, Ars Technica weighs in:
iOS 13 has a general focus on introducing new, more efficient ways for power users to get stuff done on their mobile devices—or at least on making methods that existed before more intuitive. 
And…
So you might want to wait for at least iOS 13.1. But whether you upgrade now or in a few days or weeks, your iPhone will get more powerful and useful—and that's what most of us are looking for these days.
This desire to wait for iOS 13.1 is shared fairly universally, and Apple has pulled the release date of 13.1 forward to September 24th.
Some great reading, about other things, from this week...
Next week…
A week off for your author, this reading should keep you busy and you'll be able to enjoy new devices and new software. In two weeks time, let's look towards a possible October event and see how this might shape up.