Discover more from World of Apple - Delivered
A glimpse into the World of Apple - delivered to your inbox
Another Apple Event to come?
Looking ahead to a possible October event and what Apple TV+ will deliver on day one
"That Steve Jobs was a genius, a giant influence on multiple industries and billions of lives, has been written many times since he retired as Apple's CEO in August. He was a historical figure on the scale of a Thomas Edison or a Henry Ford, and set the mold for many other corporate leaders in many other industries." Former The Wall Street Journal journalist, Walt Mossberg, reflecting on Steve Jobs' death eight years ago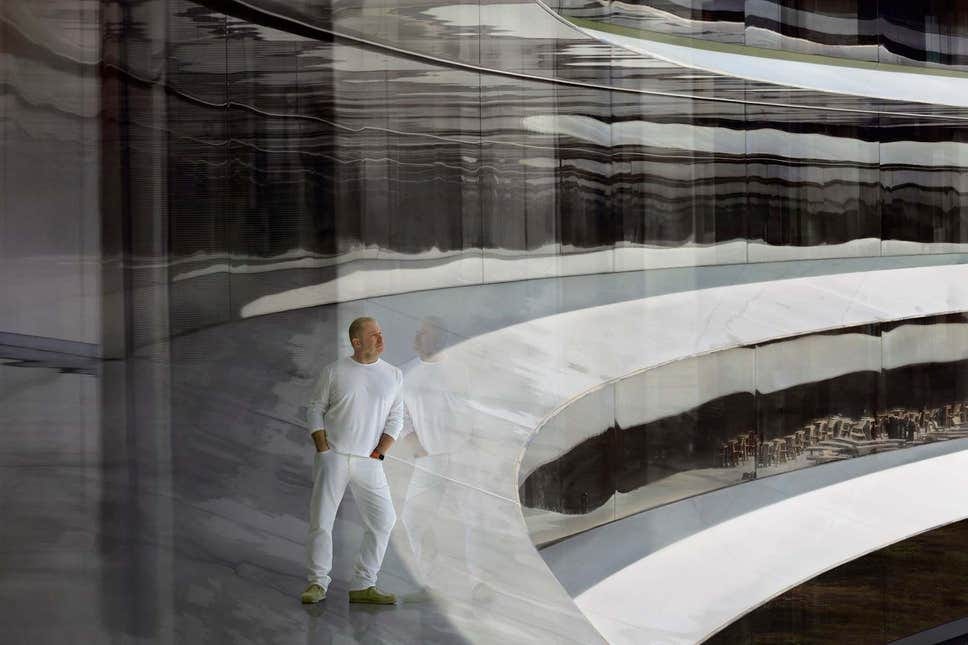 (Above: Andreas Gurksy's portrait Jony Ive will go on display at the National Portrait Gallery in London)
---
A Possible October Event?
As of writing, there are 89 days to go until the end of 2019, 55 days until Thanksgiving and the official start of the Christmas shopping season. Why does this matter? Well, Apple's product marketing team needs the best possible foundation to launch any products Apple has left in its pipeline for the remainder of the year.
Let's start with a brief analysis of dates, and whether this may or may not happen. We're already at least two weeks through October, with invites to events usually issued anywhere between 10 and 14 days before the event itself. Looking at the event dates from previous six years (30th, none, 27th, 16th, 22nd, 23rd) we can see that Apple may have another week or so before it reveals such an event date. Some may take solace in Apple's announcement that its next fiscal results call will take place on Wednesday 30th October—so mark your diaries for a special event on Tuesday 29th.
And what to expect?
With Apple dedicating its September event to iPhones, iPads, and services we can expect a slightly different approach to an October event—in previous years there has been a strong Mac focus and rumours this year include the new 16-inch MacBook Pro. 
This new 16-inch model will feature a similar footprint to the current 15-inch model but with smaller bezels around the display, and a higher resolution display. Much detail beyond that is not known but some have suggested that Apple will drop its controversial butterfly switch keyboards, and instead return to the scissor-switch of the old style.
Sticking with the Mac theme, Apple have already announced and shown us the the new Mac Pro, a behemoth of a computer starting at $6,000, suitable for the top top-end of pro users. Apple expects to deliver the Mac Pro, made in the USA, during the "fall of 2019". So no doubt we'll hear more about that.
Apple could continue with the Mac refreshing, and roll out new updates to the existing mid-range MacBook Pro. The smaller cousin MacBook Air and 13-inch MacBook Pro were both recently updated so expect nothing in that area.
Also possible is the appearance of Apple's new Tag product, I covered the potential of this product and the oddness around Apple's lack of announcement in September. If it's finally ready for show time, then an October event would be a natural landing spot.
However, new Macs and a Tag product announcement probably aren't enough to summon the press and run an event. But throw in a possible iPad Pro minor update, and an excuse to show off Apple TV+ for one last time before launch and we might have the makings of an October special event.
(Last minute bonus: maybe some new AirPods too, featuring active noise-cancelling and in-ear plugs)
Apple TV+ Approaches - What to expect?
Apple TV+ will launch next month in more than 100 countries, including most of Apple's major markets (US, Canada, UK, India, Australia) at aggressive and localised pricing, with millions of users who have just snapped up new iPhones able to experience it free for a year.
As November 1st approaches we've got a better sense of Apple's strategy, certainly in the UK they're blitzing cinema, traditional broadcast TV, YouTube pre-rolls, and social media with mini trailers showing the "hero" shows, ending with the message "Watch on the Apple TV app". This week we also learnt that Apple will not launch on November 1st with a full line-up of shows, with the freshly announced Servant coming to the service at the end of the month.
By my count Apple will launch with eight titles and one movie, with two series and two movies following in November/December and a further 32 without any firm dates but have been rumoured by various leaky Hollywood sources to be in the works.
From this we can see that Apple is not taking this launch lightly, and on the basis that the company appears to not be pitching for any existing shows, and is instead riding the coattails of excellent talent and pitching to a base of hundreds of millions of platform users. It would suggest that Apple's not competing with the likes of Netflix (draws you in with Friends and bombards you with originals) but instead closer to competing with the movie and TV studios themselves.
Another way of looking at it is via the economics, I doubt anyone working under Luca Maestri, Apple's chief financial officer, is expecting Apple TV+ to exit the red for some years. But the benefit of a recurring revenue business is the incredible predictability of its future, assuming you understand your acquisition costs and your retention levels.
I'm not going to sit here and pretend to an expert of financial forecasting a product that hasn't even been released, but Neil Cybart is, and has been doing some back of the envelope work. Cybart expects Apple to be pulling in $30 billion of revenue via all of its services by the end of FY22. To put that in context for those not 100% up to speed on Apple's financials, revenue from "services" in FY18 topped $37bn, and growing at around 25% per year—but still only representing 13% of Apple's total revenue for the year.
Going back to Neil's work and looking just at Apple TV+, he expects that by the end of September 2022 Apple will have amassed 55m subscribers to the service, and that Apple has no revenue share agreements yet for its TV service, the revenue for FY22 will be $2.6bn. Compare that against stories that Apple has already spent in excess of $6bn and climbing on producing these shows, it could be some time before Apple enters positive territory.
What to catch up on...
Next week…
I'll take a look at Tim Cook the lobbyist, from Apple's flattery of the US administration to his direct criticism of how Dreamers are being treated, to the company's failures in Hong Kong, Taiwan and China—Cook is arguably one of the most powerful CEOs and lobbyists in the world, and his influence is beginning to show.