Discover more from World of Apple - Delivered
A glimpse into the World of Apple - delivered to your inbox
Apple Kowtows to a Tyrant
Apple, politics, and China / macOS Catalina arrives
"Every once in a while I'll go into one of their offices and say, 'ah, what's going on?' And they'll say, 'OK OK OK, I didn't know, I didn't know'. It's a big organisation, but we're getting there." - Lisa Jackson, Apple's Vice President of environment, policy and social initiatives speaking to The Independent.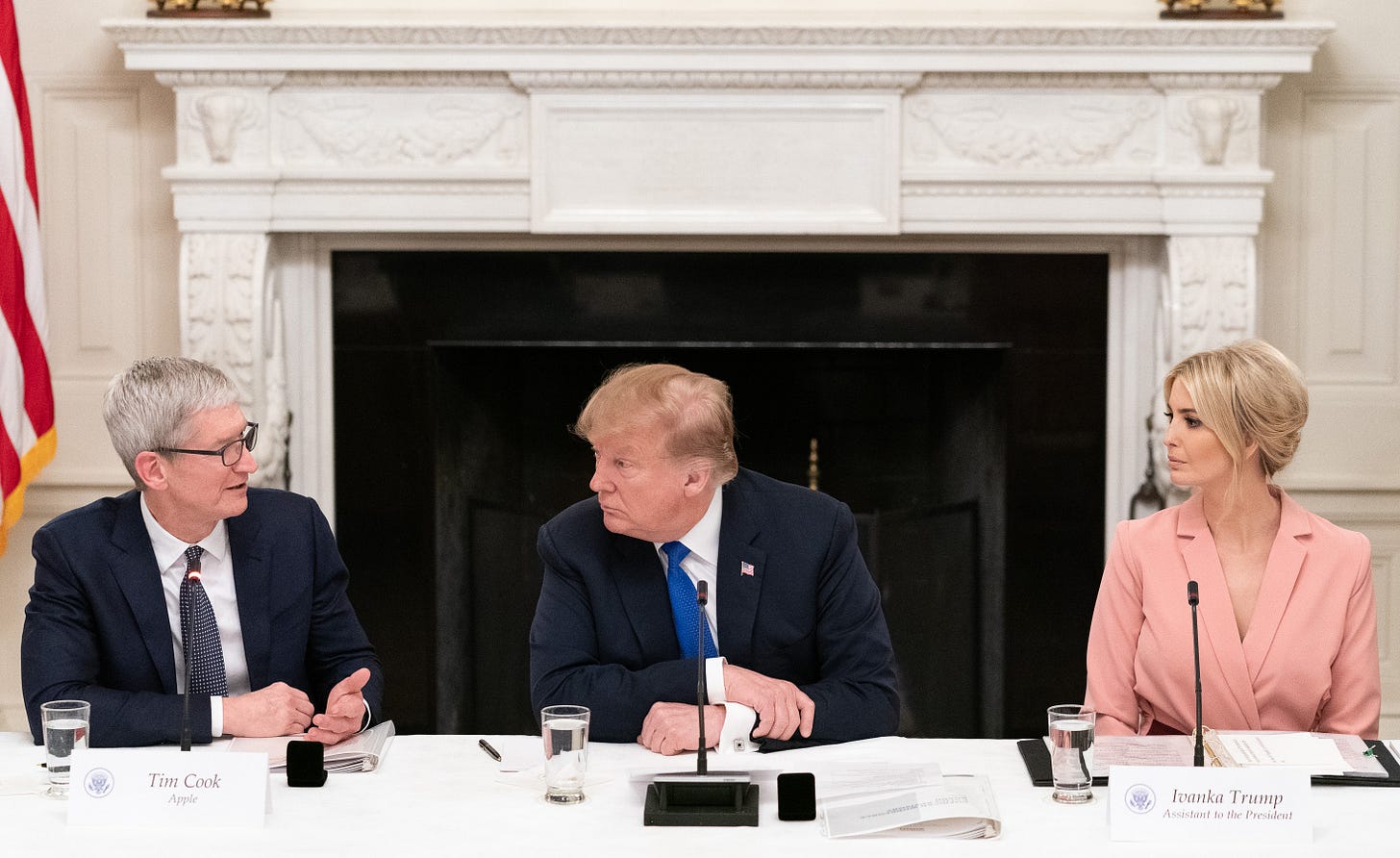 (Above: Apple CEO, Tim Cook attends The American Workforce Policy Advisory Board Meeting at The White House)
Apple in 2019 - A Political Pinball
Last week I promised a detailed look at Tim Cook the lobbyist. Since he officially took the helm as Apple CEO in 2011 the political, economic, and technology landscape has transformed in-front of our eyes. In part technology companies have accelerated a rise in mistrust in the media, the spread of disinformation, and created the foundations of a more chaotic and diverse political landscape.
In the week since I set out to detail Cook's influence on the US administration and his navigation of serious geo-political issues, Apple hit its rockiest patch yet and as of writing it shows no sign of abating. Apple has never been the quickest to respond to the fall-out of major events impacting the company, but with Cook already issuing internal memos defending his position on Hong Kong and his decision-making—it raises the question, is Apple stuck?
You'd have to be living in a cave to have avoided this week's fall out, but let's take a moment to reverse course and explore recent events.
2016 marked one of Apple's first major kowtowing to the People's Republic of China, a region that as of today makes up $44bn of Apple's total annual sales and manufacturers and assembles the vast majority of its products. In that year, Apple followed demands from officials to shut down its iBooks and iTunes Movie store—a form of censorship for the population of mainland China.
In 2017, Apple moved its iCloud data from one state-run provider to another. This in itself is not shocking news, even in democratic states laws generally insist that data of its citizens is stored within the region they live and that it is not transmitted over the internet to and from the United States where it could reasonably be spied on. Apple was largely criticised for the move, although rightly defended itself with explanations that most of the data is end-to-end encrypted (two keys required to open the door) but critics argued that with data wholly stored in China then requests for access no longer need to flow through US courts. In Apple's defence, it details requests of access by governments, providing data in more than 96% of requests.
Later in 2017, Apple publicly complied with a request from China authorities to remove VPN apps from the App Store in the country. Many of these VPN apps provided a vital way of Chinese citizens to circumvent the "Great Firewall" and access the open internet. At the time a debate raged about what options Apple had.
The kind of person that likes to get your AirPods or iPad engraved with memorable dates or events? Well, think again in China, at some point in the last couple of years Apple blocked many phrases from being engraved onto Apple products, including but not limited to: June 4, Taiwan Independence and Falun Gong or words like "dictatorship" and "human rights".
As 2019 swings round and Apple continues to kowtow in small but meaningful ways; with recent updates to iOS and macOS it is no longer possible to view or use the Taiwan flag emoji (🇹🇼) if you're in Taiwan or mainland China, and some report that it is hidden in Hong Kong and Macau.
At the end of August, Apple was once again embroiled in a China related nightmare. Although the overall impact was ignored by the company and by the media at large.
Following extensive work, Google researchers uncovered that a recently patched exploit in iOS had allowed unfettered access to devices. In a statement at the time, Apple accused Google of creating a "false impression of 'mass exploitation'", the Apple media applauded with glee and accused Google of some marketing ploy. In that same statement, Apple admitted that "The attack affected fewer than a dozen websites that focus on content related to the Uighur community"—a community that is being oppressed and imprisoned by China, for being muslim.
Apple's bullish statement was used primarily to attack the work of Google researchers, who in their extensive blog detailed the exploit and how it worked (although conspicuously missed out the China Uighur part). Apple despite quoting statements like "all evidence indicates that these website attacks were only operational for a brief period, roughly two months" provided zero evidence, and most embarrassing of all never criticised the Chinese government.
Then Apple's September event swung round and everyone forgot about it. Apart from those in the Uighur community who cannot even take safe solace in the privacy of their Apple devices.
That brings us to the week just gone. We're now more than five months into the civil unrest in Hong Kong. The citizens of Hong Kong fear that the government of the mainland is on a slow path to complete takeover of the former British island, and that a proposed law to allow extradition of Hong Kong residents to the mainland would be a serious step in the wrong direction. As part of the organised unrest, an app was created to help local residents, protestors, and tourists be more aware of what is happening on the island's of Hong Kong. The app, and website, known as HKmap.live crowdsource the location of protests and police, warning of areas of tear gas use and potentially violent outbursts, or MTR closures.
Initially on September 21st, Apple rejected HKmap from the App Store for issues with payment options, a second submission was also rejected despite the issue being fixed, this time the rejection was because it "facilitates, enables, or encourages an activity that is not legal" and that it "allowed users to evade law enforcement". The internet erupted in outrage, but many argued that this was probably some kind of bureaucratic error rather than a top down decision. It would not be the first time an app has been rejected multiple times at the hands of a rank and file reviewer following a rulebook.
On October 4th, Apple reversed its decision and HKmap was once again available on the App Store in Hong Kong.
In the last week, the Chinese government mouthpiece The People's Daily published a commentary saying that the app "incites illegal behavior," accusing Apple of "damaging its reputation and hurting the feeling of consumers." On October 10, Apple did an about turn and removed the app saying in an official statement to the media, "We have learned that an app, HKmap.live, has been used in ways that endanger law enforcement and residents in Hong Kong," and "This app violates our guidelines and local laws, and we have removed it from the App Store."
Following Apple's move, Google on Thursday removed from its own app store a mobile game called The Revolution of Our Times that let people play as a Hong Kong protester, saying it violated a policy against cashing in on conflicts.
In a company wide memo Apple's CEO, Tim Cook wrote: "Over the past several days we received credible information, from the Hong Kong Cybersecurity and Technology Crime Bureau, as well as from users in Hong Kong, that the app was being used maliciously to target individual officers for violence and to victimize individuals and property where no police are present," adding "National and international debates will outlive us all, and, while important, they do not govern the facts. In this case, we thoroughly reviewed them, and we believe this decision best protects our users."
It's not a disaster for Hong Kong residents and visitors that this app is no longer available, the website HKmap.live lives on and remains a useful tool for staying safe in the city.
In an open letter to Tim Cook via Twitter (a service not immune to its own controversies), Charles Mok a Hong Kong legislative councilor and tech entrepreneur argued that: "HKmap.live in fact helps citizens avoid areas where pedestrians not involved in any criminal activities might be subjected to police brutality which many human rights organizations such as Amnesty International have observed."
The fact that Cook quoted intelligence from the official Hong Kong authorities undermines his argument at the outset, and shows a naivety that is not the norm for Cook. That said, HKmap.live app is merely a sideshow for Apple's larger issues in the region, its inconsistent approach of not banning similar apps, or removing apps like Twitter or WhatsApp that allow for easy organisation of large protests could be seen as its best attempt at simultaneously towing the line of China's wishes and what is right.
(As of writing another controversy is building up, with Apple being accused of encouraging Apple TV+ show producers to show China in a positive light. Not unusual for any studio to do, but Apple should probably cling to whatever moral high ground it has left.)
This line is muddied, of course, by the ongoing tech cold war between the US and Chinese administrations, with Apple stuck right in the middle.
Since Trump's election in 2016, Cook has avoided criticism for being close to the administration. Cook has attended and continues to attend sessions held at The White House with Trump and appears to even visit Trump privately for lunch. This evidently to be working in Cook's favour. With the ongoing trade war, Apple is especially exposed to tariffs on consumer goods.
With this threat building in August, a potential several billion dollar blow to Apple's quarterly profits ahead of a new iPhone release, Tim Cook reached out to one of his most important contacts in D.C., Jared Kushner. In the call between Cook and Trump that followed, Cook explained that the forthcoming tariffs would impact prices of the iPhone and prevent Apple from competing so aggressively against Samsung.
In the days that followed the tariffs were eased, in response Apple issued a press release about job growth, saying that since 2011 it had quadrupled the number of jobs its business supports in the States. In fact, in the past few months Apple has issued no less than three press releases about job creation in the U.S., including a press release about the future Mac Pro being manufactured in Texas (there was no way this was not going to be the case anyway).
So at home, Apple and Cook are playing the administration at their own PR driven games and arguably winning. Even using the influence to criticise and pace the administration, most notably of which is fighting the Trump administration on their stance on the Deferred Action for Childhood Arrivals (DACA) immigration policy. They have so far avoided being dragged into the same kind of furore that has surrounded other senior executives that have dared to engage with the administration or be seen sat next to Trump.
In China however, Cook and Apple remain as cornered as ever by their reliance on the supply chain of parts and the mass of cheap labour to assemble hundreds of millions of iPhones a year, as they do on China's growing wealth and the populations desire to own expensive products. It's not known what failing to kowtow to the Chinese administration's requests would mean, but it doesn't look like a game of chicken Tim Cook is willing to enter publicly.
For the consumer, and the media, sharp criticism is fair and should continue and I imagine some will show their dissent with their wallets. And whilst I, and many others hold Apple to a higher standard, it's hard to avoid any company that hasn't turned a blind eye to China's behaviour or indeed flattered the administration by following commands.
We can hope that Apple marches forward and reduces its exposure to China more rapidly that maybe it intended. But would shifting assembly and manufacturing to India and Brazil mean that we have the same kind of outrages in another decades time?
macOS 10.15 'Catalina' lands to a chorus of disappointment and frustration
Continuing with Apple's oddly timed software releases for 2019, the latest version of macOS landed on Monday this week. Catalina's primary feature set includes: the removal of iTunes and replacement with a set of three apps focused on Music, TV, and podcasts; Sidecar, a feature to use the screen of an iPad as a second display; removal of compatibility for 32-bit apps; and the introduction of Catalyst that enables developers to easily bring iPad apps to the Mac.
Amongst these headline features, Catalina has arrived to a chorus of disappointment. Don't take my word for it, here's what the reviews said:
More than anything, the potential changes to the app model are the main reason I'm recommending that you hold off on updating for a little bit. Do some Googling on your most important apps, and make sure they're updated to support Catalina before installing it. I suspect that, for the vast majority of people and the vast majority of apps, it will be a nonissue, but it doesn't hurt to check.
There's a place for the Mac in Apple's lineup, but the platform needs to change with the times, and Catalina is the first step of bridging the gap to its future.
Apple's operating system releases have all seemed a bit rushed this year—go ahead and give the company a couple of months to patch Catalina before you install it, if you can.
CNET:
Don't put this on the machine you use to make money yet, but you can certainly load it on a secondary machine or an older Mac that you still keep around -- so you can get a taste of the Mac's future
What to catch up on...
Next week...
It's crunch week to find out if Apple will deliver one more product event before the end of the year, read my roundup of what could happen. And the big question, will Apple roll back on its China position or stay quiet?