Discover more from World of Apple - Delivered
A glimpse into the World of Apple - delivered to your inbox
Apple closes out a rocky fiscal 2019
What to look for in Apple's financials this week / Apple TV+ launch looms as marketing ramps up
"My message to them is that it doesn't have to be like that. It starts with them because if they treat their child with respect and dignity, just like we treat each other, then that child can do anything they want, including [being] the CEO of Apple, or to be the president or whatever they want. Being gay is not a limitation. It's a feature." — Tim Cook on being gay ahead of recieving the Champion Award in Los Angeles from GLSEN, who champion LGBTQ rights for those under 18 in the US.
A look at the Apple TV+ launch marketing drive
This week that we lost any last hope of another Apple event before the end of the year. It's possible that Apple could sneak some products out via press release, remember the pre-WWDC blitz of announcements in the spring?
One excellent reason for Apple choosing not to host another event is the impending launch of Apple TV+ on November 1. Apple has been on its most extensive marketing and PR drive in recent memory, in a hope it'll make a splash this week and most importantly people subscribe and stay subscribed.
Here in London and the United Kingdom, Apple has been pushing the hero shows of Apple TV+ across all channels, owned and paid—notably Disney+ will not be coming to the UK at launch and there is no launch date known, but Netflix and Prime are well entrenched in the market.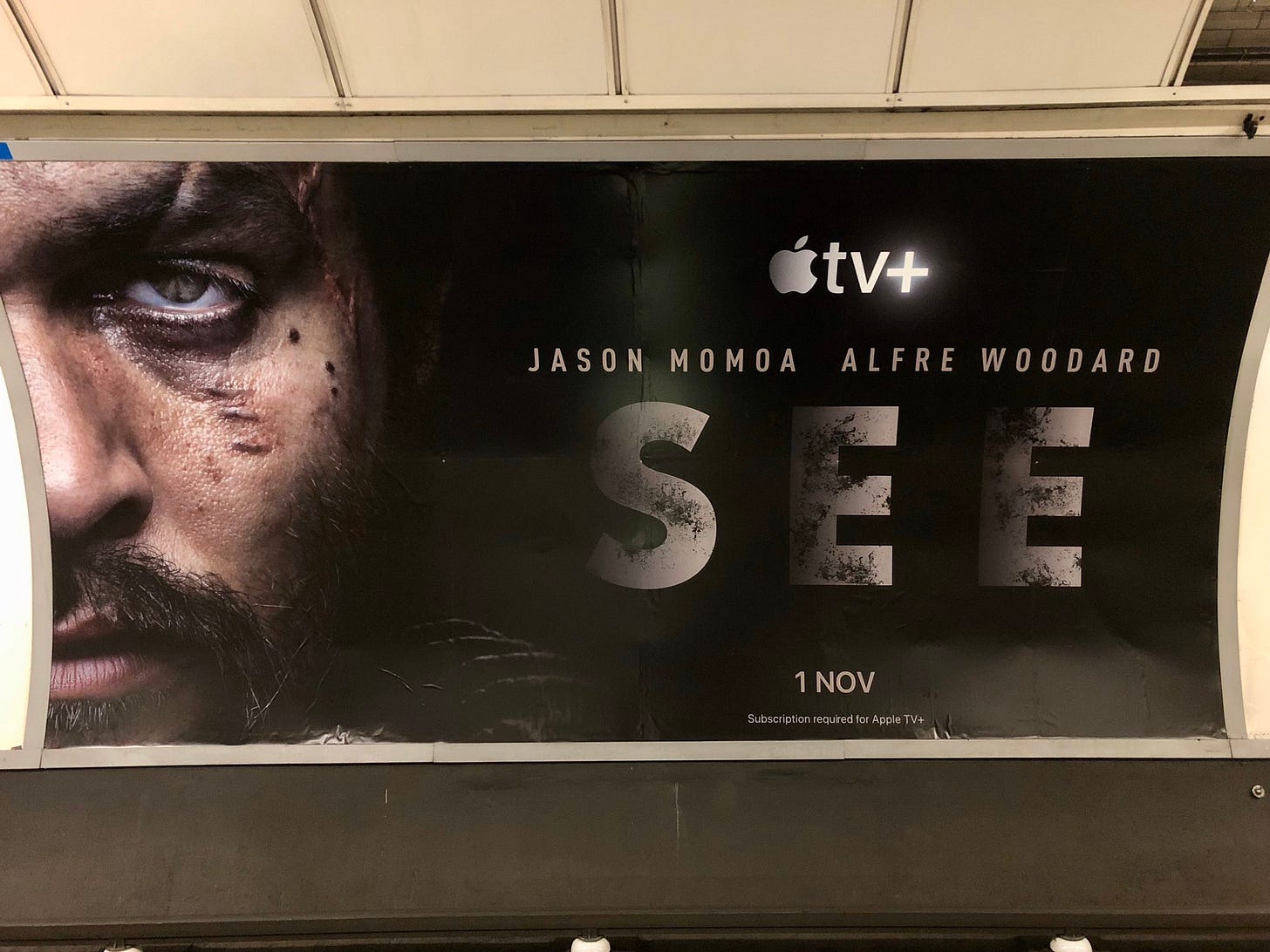 More subtly than the London underground takeovers and the Hollywood launch events, Apple has been working the public status of its stars. Did anyone say Jennifer Aniston starting an Instagram account and breaking records for the number of followers gained in 30 minutes? Or did you see Dickinson star Hailee Steinfeld doing the rounds on British TV last week and US morning shows the week before?
Does having Reese Witherspoon, Jennier Aniston, Oprah, Hailee Steinfeld, Steve Carell, Aaron Paul, and Snoopy as your ambassadors have the same impact as having well known and established shows like Friends and House of Cards on your platform? Only time will tell.

Apple TV+ will launch this coming week in more than 100 countries, including most of Apple's major markets (US, Canada, UK, India, Australia) at aggressive and localised pricing, with millions of users who have just snapped up new iPhones able to experience it free for a year. By my count Apple will launch with eight titles and one movie, with two series and two movies following in November/December and a further 32 without any firm dates.
Have you seen unique Apple TV+ marketing efforts? Reply to this email or comment on the post to let me know.
Apple closes out fiscal 2019 - What to watch for
On Wednesday, not Tuesday, Apple will announce their fourth fiscal quarter results and the final tally for the 2019 fiscal year. It's been a long year for Apple, in January Apple had to push out a special announcement saying it would reveal results for the first quarter that would be below expectation, the first time it has issued such a warning since 2002. This announcement alone wiped $55bn off Apple's market cap and set the scene for a potentially rocky 2019.
Since then, Apple has had a pretty solid year financially. As of writing, Apple is back as the largest publicly trading company with a market cap of $1.10 trillion, and the stock price is at an all-time record high, notably up 54% across calendar 2019.
As Apple closed the fiscal year, there are three things to watch for on Wednesday: performance in the Greater China region, iPhone forecasts for the coming quarter, and keeping an eye on that ever growing services sector.
Let's take them in order. I detailed Apple's China problem in the last edition of this newsletter (Apple kowtows to a tyrant), one area I only lightly touched on was Apple's financial reliance on revenue from the region, making up $52bn of Apple's revenue in fiscal 2018 (20%), up from $2.8bn in 2010 (4%). This week, UBS analyst Timothy Arcuri raised his stock price target ahead of Apple's results suggesting that Apple's fairing in the region would be strong. "More importantly, there has been growth in two of the last three months following declines for two and a half years," he wrote.
Depending on how you look at things, this is both good and bad. Bad in that Apple's growing reliance on revenue from the region makes its daily decisions around the government's tyranny over its people and its interaction with the Chinese government an ongoing and growing problem.
On the flip side, Apple had been struggling in recent years to penetrate the market in a big way. It was fending off sizeable rivalries in the smartphone market against region grown Samsung and homegrown Huawei to name just a couple, and the countries reliance on WeChat as a method of paying for everything meant that there was no penalty in switching from iOS to Android. Since this struggle, Apple has moved aggressively with the iPhone, bringing key features including those almost edge to edge displays, new colours, dual physical SIM cards, and so on. Wednesday's announcement will give us a sense of Apple's growth in the region, but we'll have to wait another three months to assess the impact of the iPhone 11 launch.
That leads me on nicely to the iPhone. Apple's Q4 ended on the 28th September, so will contain only one week of on-shelf iPhone sales, and one week of pre-orders. As this is the case most years, it's possible to make an assessment on the launch trajectory. But the real number to watch is Apple's forecast for Q1 2020, with a bad year of iPhone sales behind them, we could see Apple enter 2020 with a bullish view of the future. Might the iPhone 11 cycle match that of the iPhone 7 cycle? Entering with low expectations, and exiting with better performance than expected.
Back in September after Apple's iPhone event I published "By Innovation Only?", a wide ranging piece on Apple's positioning of the new iPhones. In particular, I focused in on three aspects of Apple's iPhone pricing: perception, pricing in key markets, and value. On Wednesday we'll get a glimpse of this impact, look out for the strength of the forecast and whether there are any mentions of gross margins adjustments going forward.
And finally, Apple will no doubt announce another storming quarter for its services business. Currently that's made up of App Stores, AppleCare, Apple Pay, iCloud and Apple Music, and last quarter made up 21% of Apple's total revenue. As we move into fiscal 2020, Apple TV+ will become a feature of this services category, and as we exited the last fiscal, Apple News+ and Apple Arcade will have contributed to the number.
To attempt to understand the context of this segment of Apple's business and where it could go, let's revisit the same maths from my early October newsletter where I discussed the Apple TV+ launch potential. In this, I use the workings of analyst Neil Cybart, who forecasts that by the end of FY2020 Apple's content platforms (Music, TV+, News+, Arcade) will deliver more than $30bn in revenue alone. This may seem modest, but it's worth noting that this forecast is only three fiscal years away. And to put into perspective how expensive content is, and how long it takes to build the business; in fiscal 2018 Netflix reported revenues of $15.79bn, but only a net profit of $1.21bn (and even that represented 116% growth), for a business that has been on our TVs since 2007.
It's not likely that we'll hear much from Apple on this subject this coming Wednesday, but going forward it's possible that Apple unbundles the services category a little bit to help distinguish the success of the content arm vs the traditional consumer services, of which iCloud and AppleCare are very profitable.
Apple may also take Wednesday as an opportunity to disclose some numbers for Arcade or News+, but in recent years Apple has veered away from specific number releases, so I suspect we'll be digging into those breakdowns to establish how much they've buoyed the services arm.
Considering all three of the items discussed above will make it possible to give an excellent assessment of how Apple is pitching itself as it goes forward. In terms of how it has done in FY2019, analyst estimates suggest Apple will report quarterly revenue in the region of $62.9bn ($2.83 earnings per share)—that's flat year-over-year so the pressure will build if Apple hits this head on or misses.
More to catch up on…